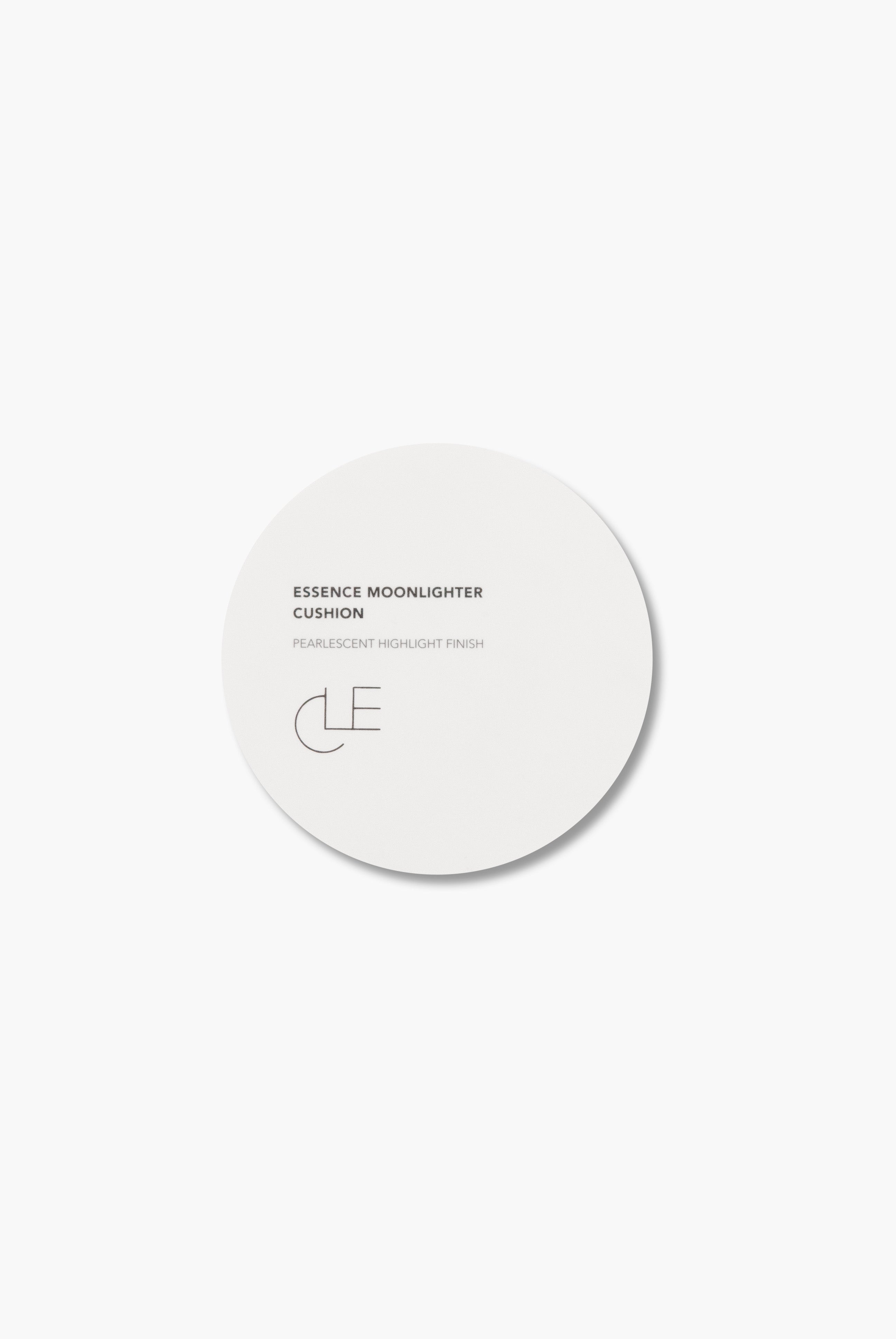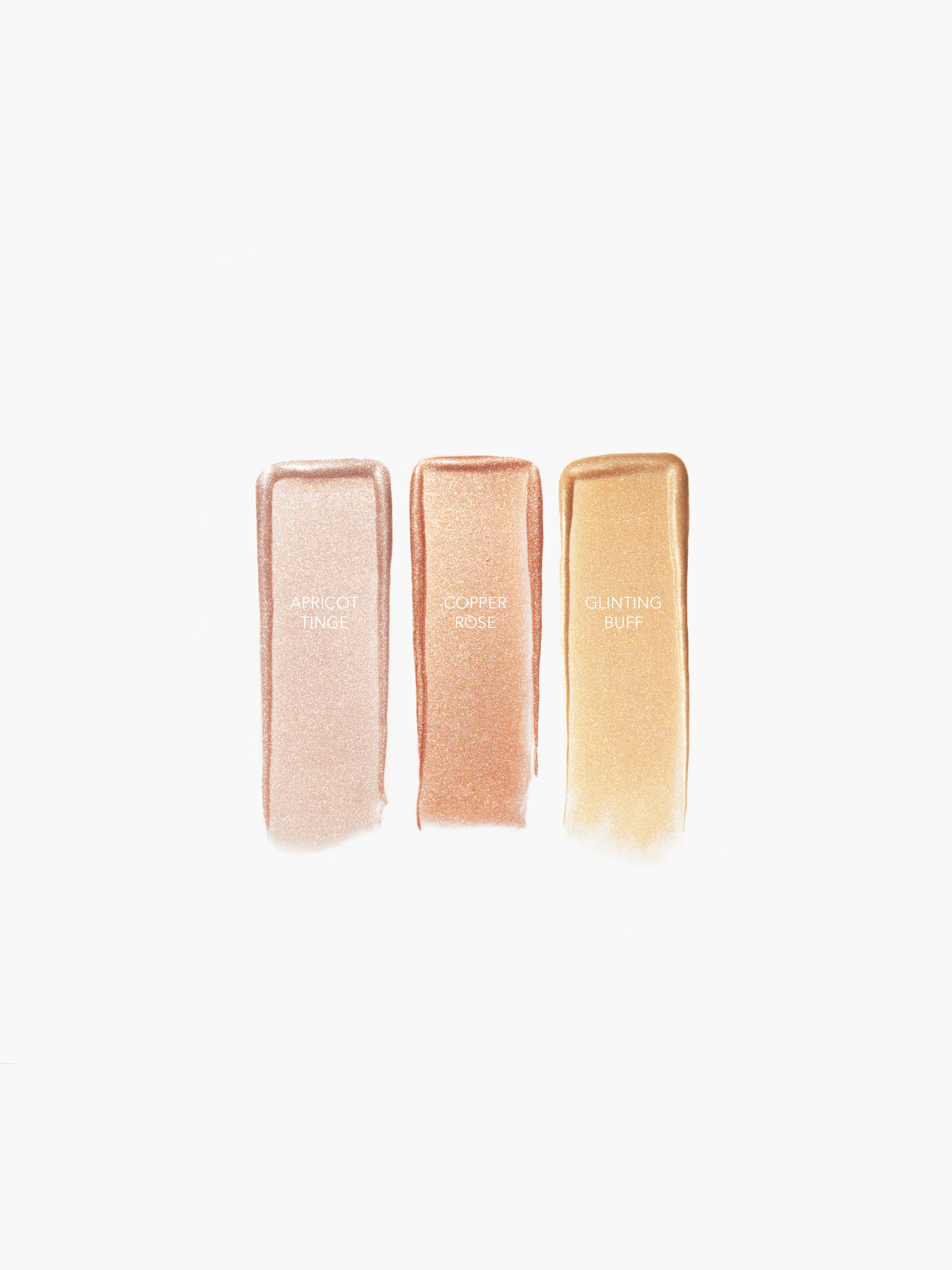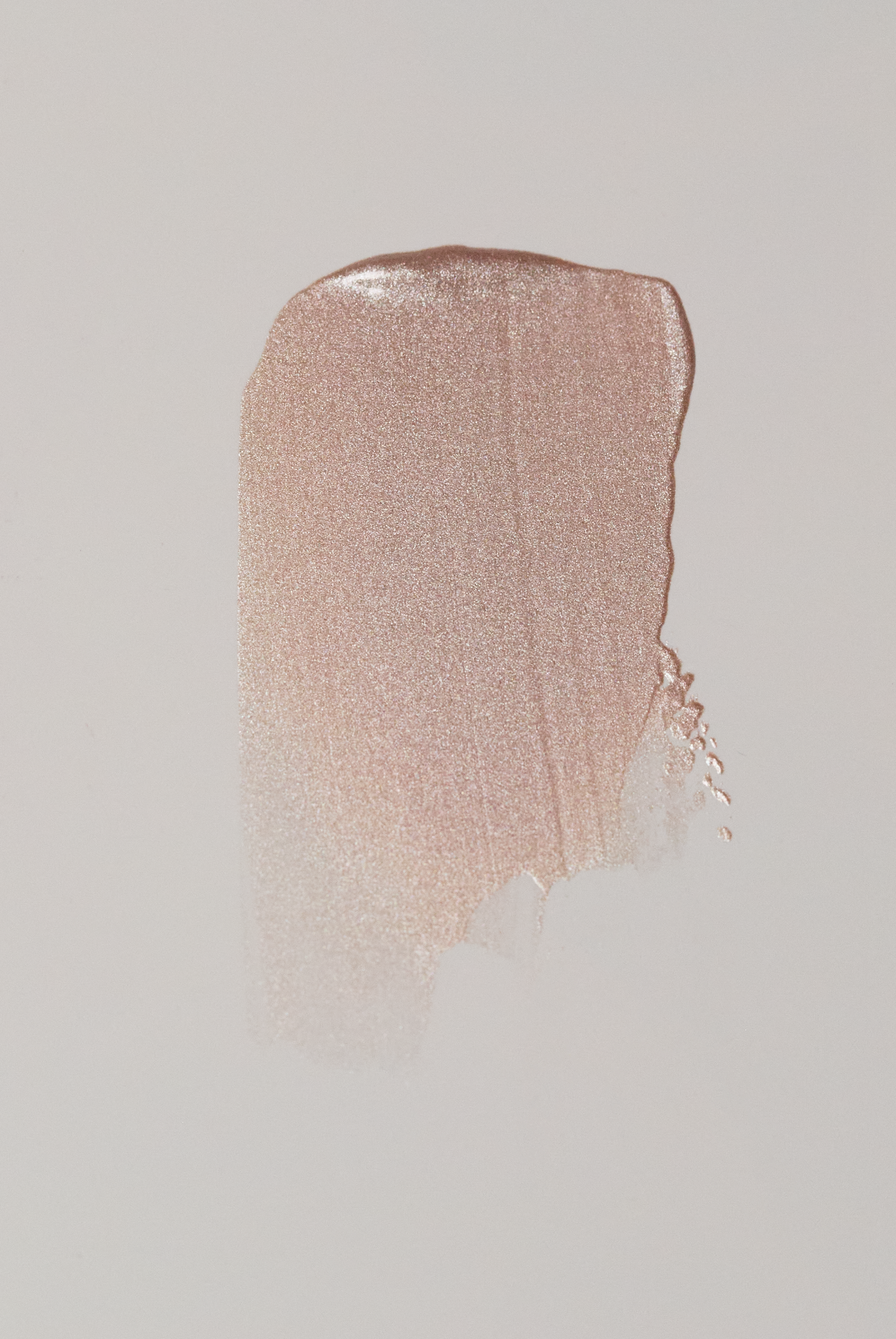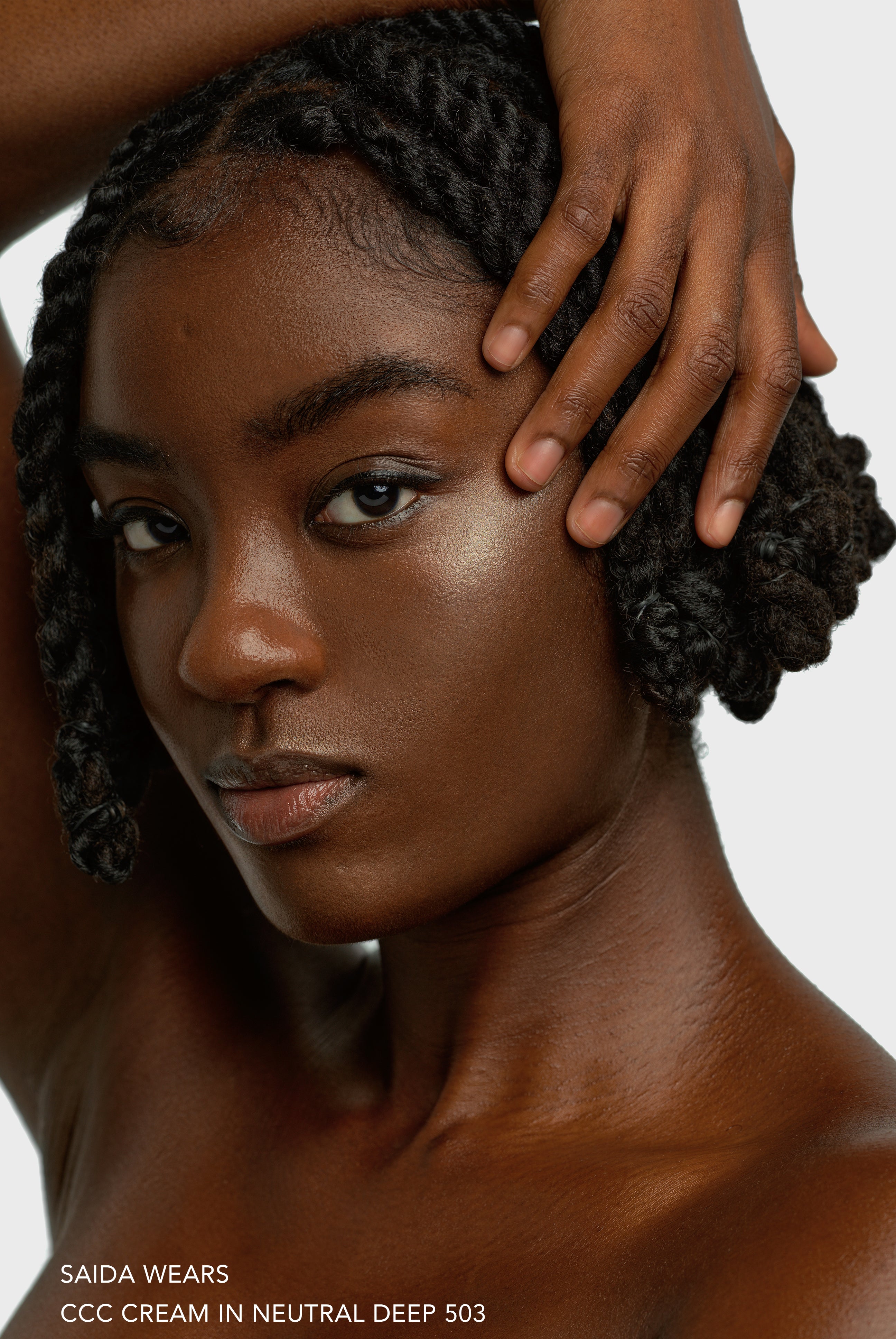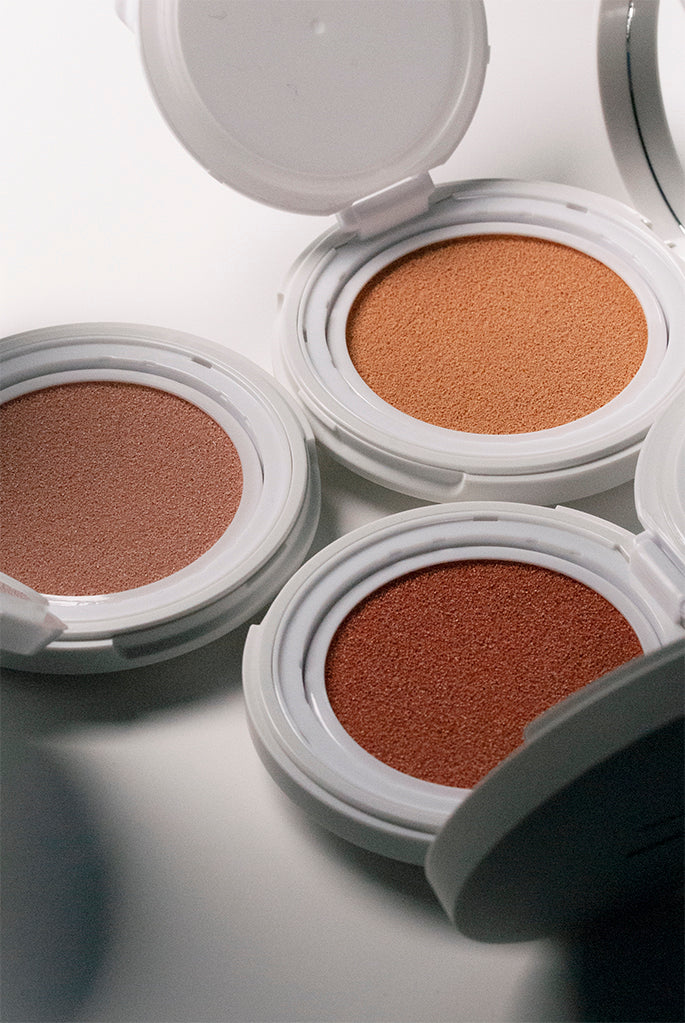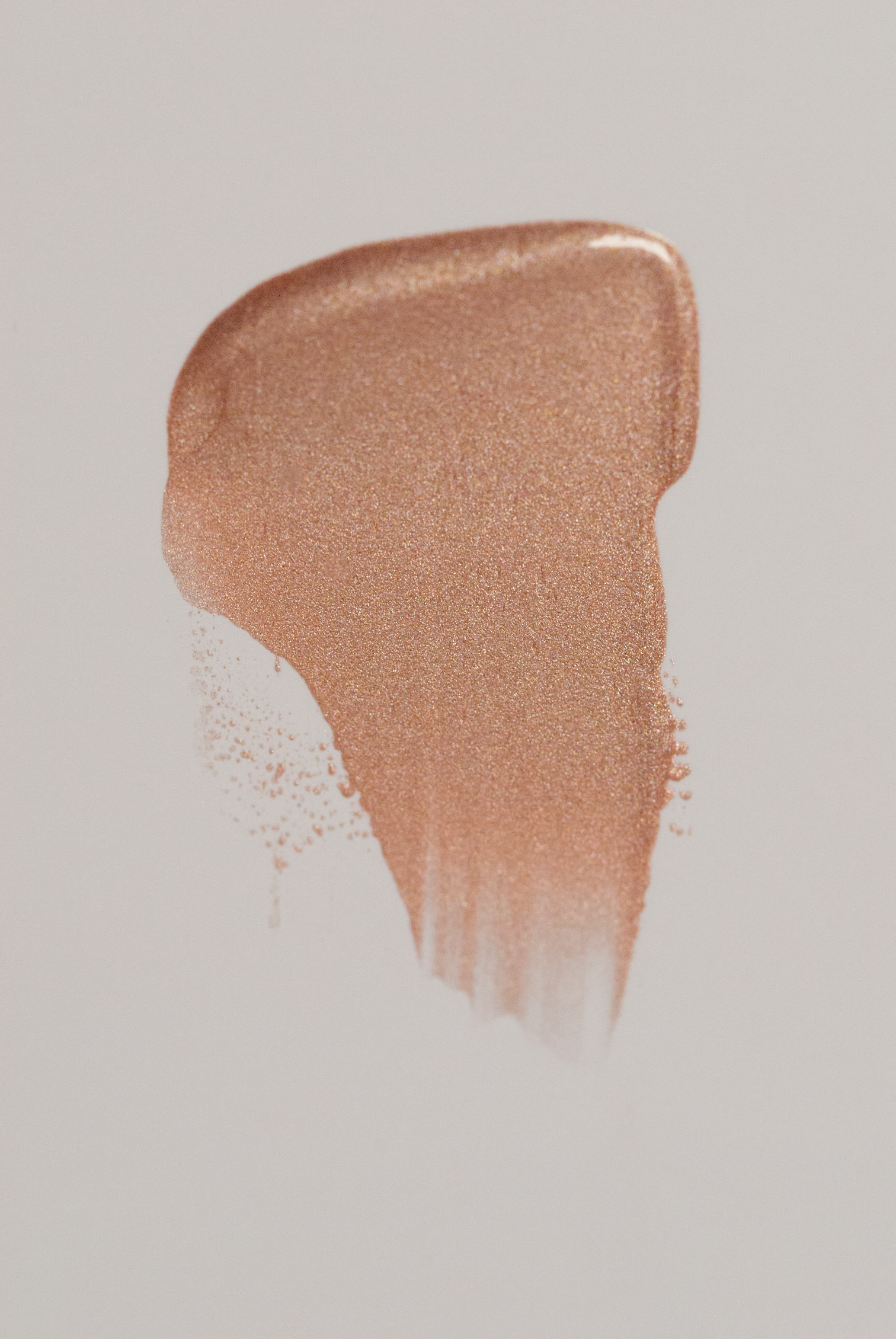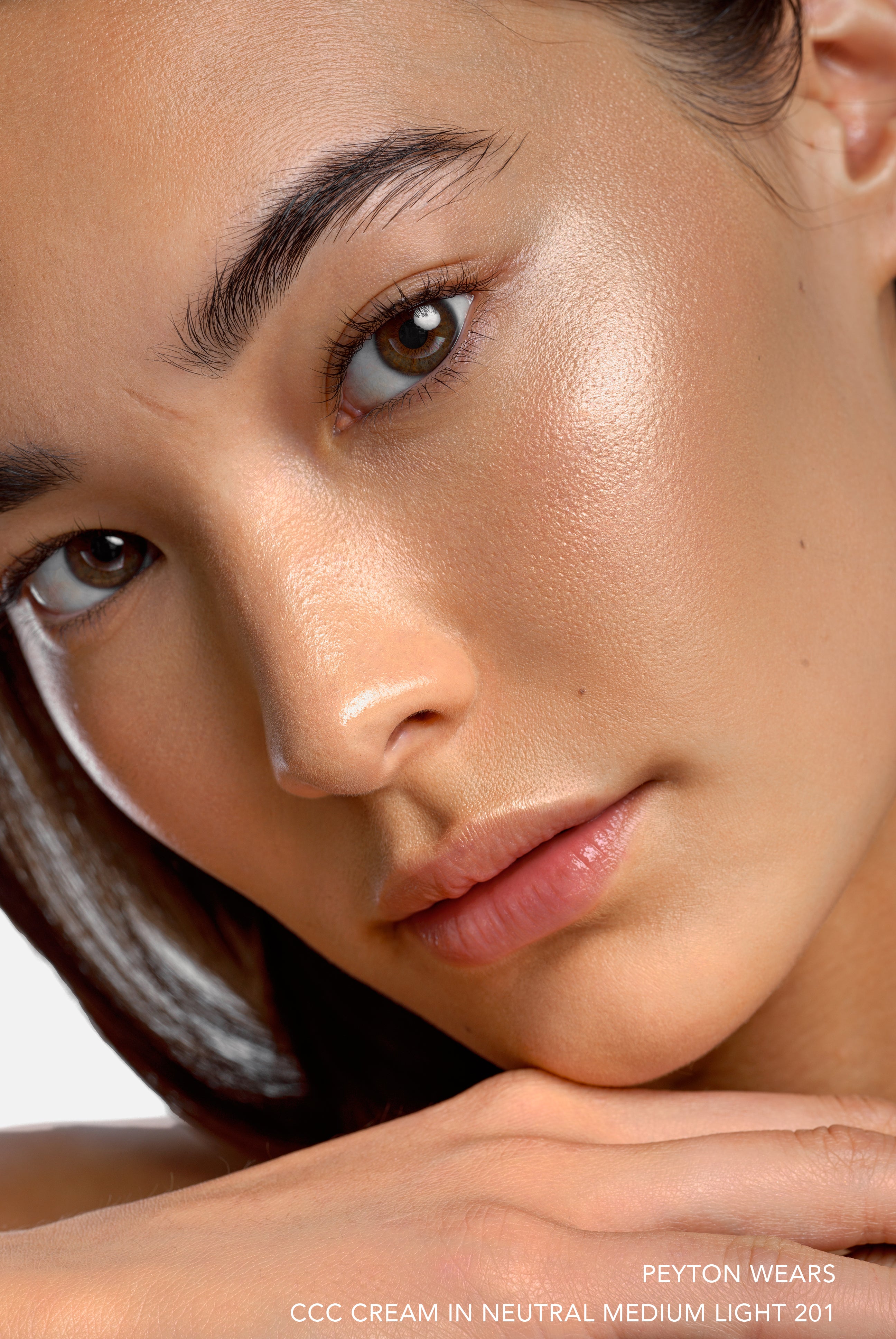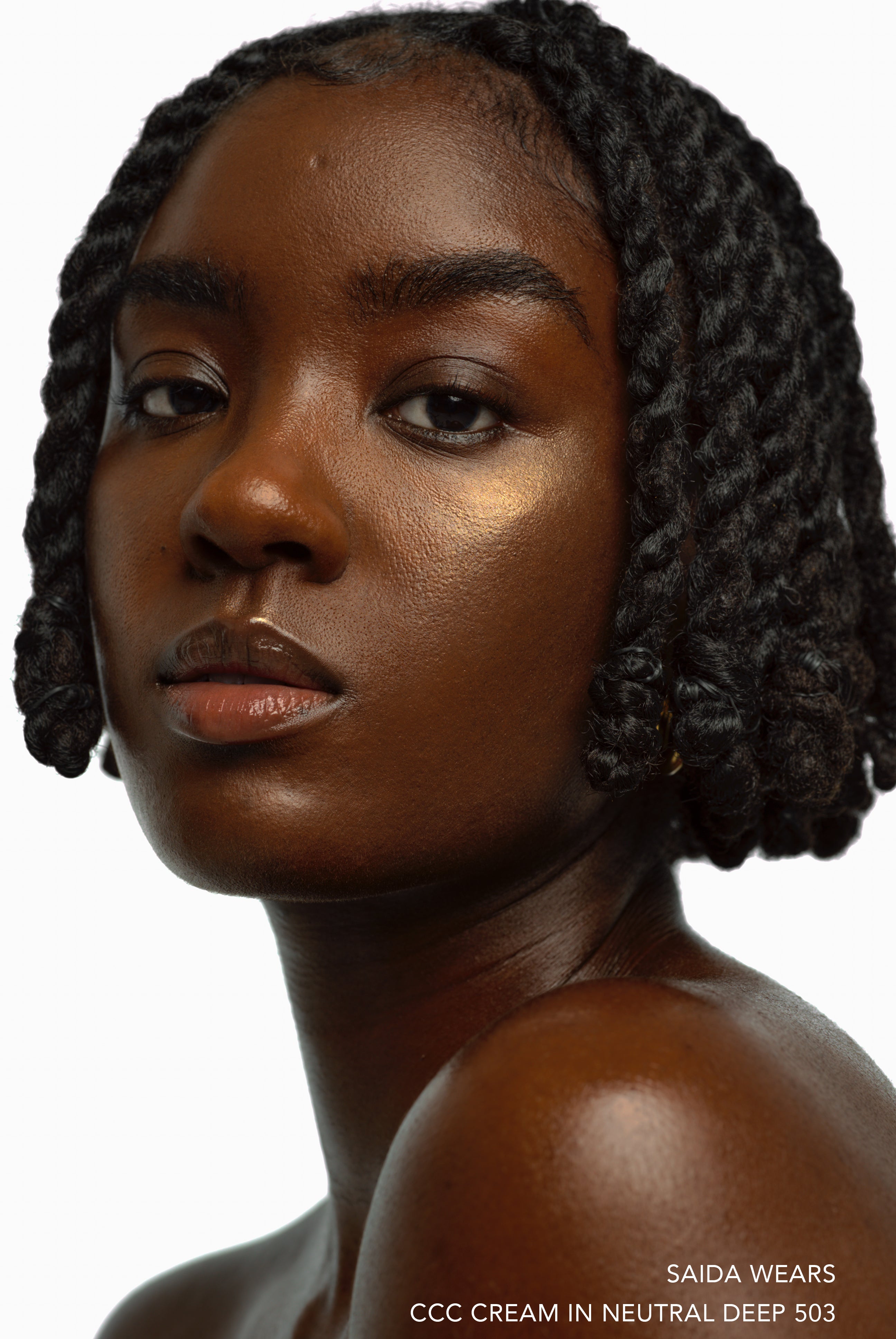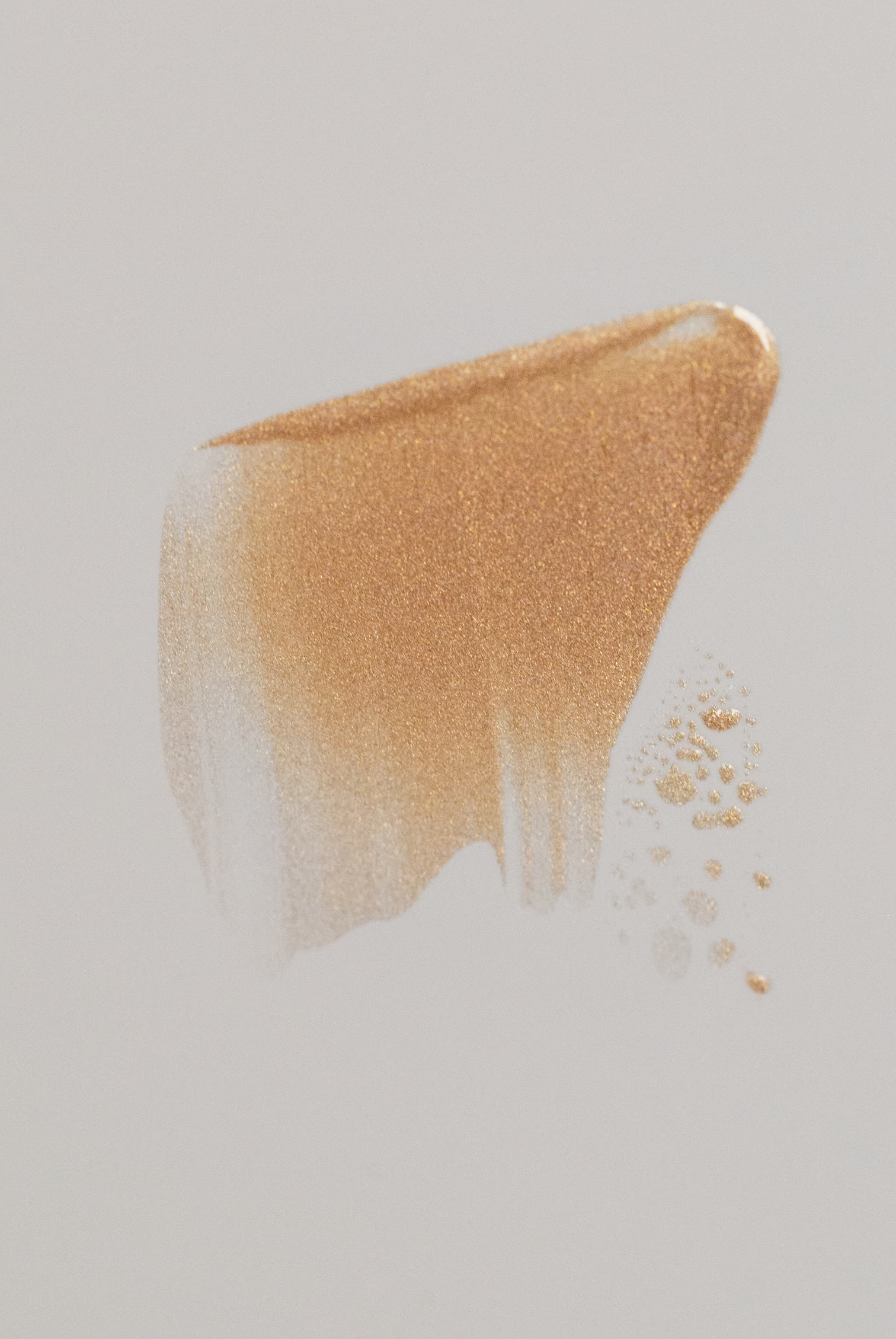 説明
このコンパクトでクッション性のあるハイライターには、
パール パウダーとモイスチャライジング エッセンスが含まれており、顔の隆起したポイント全体に微妙でありながら明るい光沢を与えます。テクスチャーは手触りが雲のように柔らかく、パフ アプリケーターに簡単に吸収され、ハイライターを均等に分配するように設計されており、すでにセットされたメイクアップを妨げない持続的で構築可能な輝きを実現します。

合成香料不使用
ベルガモット(フロクマリン不使用)、オレンジ、
イランイランエッセンシャルオイル
最初はひんやり、肌になじむと温かくなる
デコルテのハイライトにも使える
簡単にブレンドできるパフアプリケーター付き。
パラベンフリー・フタル酸フリー・グルテンフリー・クルエルティフリー・ビーガン
シアーなシャンパン シェードに溶け込むニュートラルでパールのような色合い
ピンクからオレンジに仕上げる柔らかなローズ ゴールド
クリーミー ゴールド
使い方
1
付属のパフ アプリケーターを使用して、指先またはメイク ブラシで
クッション ハイ
ライターを軽く押し込み、額、頬骨、眉アーチ、目頭、鼻先、キューピッド ボウ、あごなど、顔の角度のついたポイントになじませます。
2
エッセンス ムーンライター クッションをまぶたにのせると、まぶたにツヤがでます。肌になじませて、透明感のある明るい仕上がりに。
- まぶた、頬、および/または唇に使用して、輝きのある色を表現します。
追加情報
- 中型の化粧バッグに簡単に収まります

- 空に安全。旅行にやさしく、液体不要

- リサイクル可能なパッケージ

重量0.42 オンス
寸法3.06 x 3.06 x 1.75 インチ

全成分リスト
注意してください**
各製品の品質を絶えず改善するというブランドの取り組みの一環として、当社の処方は随時更新されます。当社の処方についてご提案やご意見がございましたら、info@clecosmetics.com までお気軽にお問い合わせください。あなたからの御一報をお待ちしています!
アプリコットの色合い
水、合成フルオルフロゴパイト、ブチレングリコールジカプリレート/ジカプレート、シクロペンタシロキサン、ジフェニルシロキシフェニルトリメチコン、ジオキシドチタン、シクロヘキサシロキサン、ブチレングリコール、カルキン酸カルキン酸カルキン酸カルキン酸カルキン酸カルキン酸カルキン酸カルキン酸カルキン酸カルキン酸塩、カルキン酸カルキン酸カルキン酸カルキン酸カルキン酸カルキン酸カルキン酸カルキン酸カルキン肉BENZOATE, SODIUM CHLORIDE, TRIMETHYLSILOXYSILICATE, SORBITAN SESQUIOLEATE, SORBITAN OLIVATE, POLYGLYCERYL-4 DIISOSTEARATE/POLYHYDROXYSTEARATE/SEBACATE, DISTEARDIMONIUM HECTORITE, SYNTHETIC BEESWAX, CI 77491, DIPROPYLENE GLYCOL, 1,2-HEXANEDIOL, HYDROXYACETOPHENONE, TRIHYDROXYSTEARIN, POLYPROPYLSILSESQUIOXANE, PROPYLENE CARBONATE, POLYGLYCERYL -3 リシノール酸、植物油、スクワラン、酢酸トコフェリル、シトラス オーランティアム ベルガミア (ベルガモット) 果実油、シトラス オーランティアム ダルシス (オレンジ) オイル、アデノシン、カナンガ オドラタ花油、納豆ガム、ソウシュレア インボルクラタ エキス、バンブーザ葉/茎エキス、 VACCINIUM ANGUSTIFOLIUM (ブルーベリー) 果実エキス、BUTYROSPERM UM PARKII (シア) バター、パールパウダー、ココスヌシフェラ (ココナッツ) オイル、加水分解ヒアルロン酸


コッパーローズ
WATER, BUTYLENE GLYCOL DICAPRYLATE/DICAPRATE, CYCLOPENTASILOXANE, DIPHENYLSILOXY PHENYL TRIMETHICONE, TITANIUM DIOXIDE, SYNTHETIC FLUORPHLOGOPITE, CYCLOHEXASILOXANE, MICA, BUTYLENE GLYCOL, ALUMINA, POLYGLYCERYL-3 POLYRICINOLEATE, NIACINAMIDE, DIISOSTEARYL MALATE, DICAPRYLYL CARBONATE, ALCOHOL DENAT., C12-15 ALKYL BENZOATE, SODIUM CHLORIDE, TRIMETHYLSILOXYSILICATE, CI 77491, SORBITAN SESQUIOLEATE, SORBITAN OLIVATE, POLYGLYCERYL-4 DIISOSTEARATE/POLYHYDROXYSTEARATE/SEBACATE, DISTEARDIMONIUM HECTORITE, SYNTHETIC BEESWAX, DIPROPYLENE GLYCOL, 1,2-HEXANEDIOL, HYDROXYACETOPHENONE, TRIHYDROXYSTEARIN, POLYPROPYLSILSESQUIOXANE, PROPYLENE CARBONATE, POLYGLYCERYL -3 リシノレイン酸、植物油、スクワラン、酢酸トコフェリル、シトラス オーランティアム ベルガミア (ベルガモット) 果実油、シトラス オーランティアム ダルシス (オレンジ) オイル、アデノシン、カナンガ オドラタ花油、酸化スズ、納豆ガム、ソウシュレア インボルクラータ エキス、バンブーザ ウルガリス葉/茎エキス、ワクシニアム・アングスティフォリウム(ブルーベリー)果実エキス、ブチロスペルマム PA RKII(シア)バター、パールパウダー、ココスヌシフェラ(ココナッツ)オイル、加水分解ヒアルロン酸


きらめくバフ
水、ブチレングリコールジカプリレート/ジカプレー酸、シクロペンタシロキサン、ジフェニルシロキシフェニルトリメチコン、シクロヘキサシロキサン、ジオキシドチタン、ブチレングリコール、MICA、ポリグリセリル菌炭酸塩マラ酸塩、カルコーチン酸塩、カルコシル酸マラ酸塩、カルコーチン酸塩素酸塩素酸塩素化塩化ナトリウム、トリメチルシロキシリケート、CI 77491、ソルビタンセスキオレアーテ、ソルビタンオリベート、ポリグリセリル4、ディジトアディモニウムヘクター、合成蜜蝋、ディプロピレングリコール、1,2-ヘキサネジオール、ポリホキシレキトファニョール、リプレニン菌、リンカ系、リンカ系、リンカ系、カンキン酸塩、カンキン型、コカリ菌、カンキン菌、飼育中、皮膚胞子虫の飼育具合産の皮膚科菌豊富なカンキン型飼育具産の皮膚科菌産の皮膚胞子虫の飼い主、スクワラン、酢酸トコフェリル、シトラス オーランティアム ベルガミア (ベルガモット) 果実油、シトラス オーランティアム ダルシス (オレンジ) オイル、アデノシン、カナンガ オドラタ花油、酸化スズ、納豆ガム、ソウシュレア インボルクラタ エキス、バンブサ尋常性葉/茎エキス、ワクシニアム (ブルーアンベリー) ) フルーツ、BUTYROSPERMUM PARKII (シア) バター、パールパウダー、ココスヌシフェラ (ココナッツ) O IL、加水分解ヒアルロン酸

シアーなシャンパン シェードに溶け込むニュートラルでパールのような色合い
ピンクからオレンジに仕上げる柔らかなローズ ゴールド
クリーミー ゴールド
HOW TO USE
Using the puff applicator provided, your fingertips or makeup brush, press lightly into the cushion highlighter and apply to angled points of the face – forehead, cheekbones, brow arch, inner corners of the eyes, tip of nose, cupid's bow and chin
Essence Moonlighter Cushion can be applied on eyelids for added luster. Blend into skin for a sheer, luminous finish.
#CLEHacks
Mix Essence Moonlighter Cushion with Melting Lip Powder for a unique and personalized shimmery blush.
Apply before CCC Cream for glass skin.
Use on eyelids, cheeks, and/or lips for a hint of glowing color.
ADDITIONAL INFO
Fits easily into medium-sized makeup bags
Safe for the skies; travel-friendly & liquid-free
Recyclable packaging
Weight 0.42 oz
Dimension 3.06 x 3.06 x 1.75 in
FULL INGREDIENTS LIST
Please Note** Our formulations are updated from time to time as part of the brand's commitment to constantly improve the quality of each product. If you have any suggestions and/or comments on any of our formulations, feel free to reach out to us at info@clecosmetics.com. We'd love to hear from you!
APRICOT TINGE
WATER, SYNTHETIC FLUORPHLOGOPITE, BUTYLENE GLYCOL DICAPRYLATE/DICAPRATE, CYCLOPENTASILOXANE, DIPHENYLSILOXY PHENYL TRIMETHICONE, TITANIUM DIOXIDE, CYCLOHEXASILOXANE, BUTYLENE GLYCOL, POLYGLYCERYL-3 POLYRICINOLEATE, NIACINAMIDE, DIISOSTEARYL MALATE, DICAPRYLYL CARBONATE, ALCOHOL DENAT., CALCIUM TITANIUM BOROSILICATE, C12-15 ALKYL BENZOATE, SODIUM CHLORIDE, TRIMETHYLSILOXYSILICATE, SORBITAN SESQUIOLEATE, SORBITAN OLIVATE, POLYGLYCERYL-4 DIISOSTEARATE/POLYHYDROXYSTEARATE/SEBACATE, DISTEARDIMONIUM HECTORITE, SYNTHETIC BEESWAX, CI 77491, DIPROPYLENE GLYCOL, 1,2-HEXANEDIOL, HYDROXYACETOPHENONE, TRIHYDROXYSTEARIN, POLYPROPYLSILSESQUIOXANE, PROPYLENE CARBONATE, POLYGLYCERYL-3 RICINOLEATE, VEGETABLE OIL, SQUALANE, TOCOPHERYL ACETATE, CITRUS AURANTIUM BERGAMIA (BERGAMOT) FRUIT OIL, CITRUS AURANTIUM DULCIS (ORANGE) OIL, ADENOSINE, CANANGA ODORATA FLOWER OIL, NATTO GUM, SAUSSUREA INVOLUCRATA EXTRACT, BAMBUSA VULGARIS LEAF/STEM EXTRACT, VACCINIUM ANGUSTIFOLIUM (BLUEBERRY) FRUIT EXTRACT, BUTYROSPERMUM PARKII (SHEA) BUTTER, PEARL POWDER, COCOS NUCIFERA (COCONUT) OIL, HYDROLYZED HYALURONIC ACID
COPPER ROSE
WATER, BUTYLENE GLYCOL DICAPRYLATE/DICAPRATE, CYCLOPENTASILOXANE, DIPHENYLSILOXY PHENYL TRIMETHICONE, TITANIUM DIOXIDE, SYNTHETIC FLUORPHLOGOPITE, CYCLOHEXASILOXANE, MICA, BUTYLENE GLYCOL, ALUMINA, POLYGLYCERYL-3 POLYRICINOLEATE, NIACINAMIDE, DIISOSTEARYL MALATE, DICAPRYLYL CARBONATE, ALCOHOL DENAT., C12-15 ALKYL BENZOATE, SODIUM CHLORIDE, TRIMETHYLSILOXYSILICATE, CI 77491, SORBITAN SESQUIOLEATE, SORBITAN OLIVATE, POLYGLYCERYL-4 DIISOSTEARATE/POLYHYDROXYSTEARATE/SEBACATE, DISTEARDIMONIUM HECTORITE, SYNTHETIC BEESWAX, DIPROPYLENE GLYCOL, 1,2-HEXANEDIOL, HYDROXYACETOPHENONE, TRIHYDROXYSTEARIN, POLYPROPYLSILSESQUIOXANE, PROPYLENE CARBONATE, POLYGLYCERYL-3 RICINOLEATE, VEGETABLE OIL, SQUALANE, TOCOPHERYL ACETATE, CITRUS AURANTIUM BERGAMIA (BERGAMOT) FRUIT OIL, CITRUS AURANTIUM DULCIS (ORANGE) OIL, ADENOSINE, CANANGA ODORATA FLOWER OIL, TIN OXIDE, NATTO GUM, SAUSSUREA INVOLUCRATA EXTRACT, BAMBUSA VULGARIS LEAF/STEM EXTRACT, VACCINIUM ANGUSTIFOLIUM (BLUEBERRY) FRUIT EXTRACT, BUTYROSPERMUM PARKII (SHEA) BUTTER, PEARL POWDER, COCOS NUCIFERA (COCONUT) OIL, HYDROLYZED HYALURONIC ACID
GLINTING BUFF
WATER, BUTYLENE GLYCOL DICAPRYLATE/DICAPRATE, CYCLOPENTASILOXANE, DIPHENYLSILOXY PHENYL TRIMETHICONE, CYCLOHEXASILOXANE, TITANIUM DIOXIDE, BUTYLENE GLYCOL, MICA, POLYGLYCERYL-3 POLYRICINOLEATE, NIACINAMIDE, DIISOSTEARYL MALATE, DICAPRYLYL CARBONATE, ALCOHOL DENAT., SYNTHETIC FLUORPHLOGOPITE, C12-15 ALKYL BENZOATE, SODIUM CHLORIDE, TRIMETHYLSILOXYSILICATE, CI 77491, SORBITAN SESQUIOLEATE, SORBITAN OLIVATE, POLYGLYCERYL-4, DISTEARDIMONIUM HECTORITE, SYNTHETIC BEESWAX, DIPROPYLENE GLYCOL, 1,2-HEXANEDIOL, HYDROXYACETOPHENONE, TRIHYDROXYSTEARIN, POLYPROPYLSILSESQUIOXANE, PROPYLENE CARBONATE, POLYGLYCERYL-3 RICINOLEATE, VEGETABLE OIL, SQUALANE, TOCOPHERYL ACETATE, CITRUS AURANTIUM BERGAMIA (BERGAMOT) FRUIT OIL, CITRUS AURANTIUM DULCIS (ORANGE) OIL, ADENOSINE, CANANGA ODORATA FLOWER OIL, TIN OXIDE, NATTO GUM, SAUSSUREA INVOLUCRATA EXTRACT, BAMBUSA VULGARIS LEAF/STEM EXTRACT, VACCINIUM ANGUSTIFOLIUM (BLUEBERRY) FRUIT, BUTYROSPERMUM PARKII (SHEA) BUTTER, PEARL POWDER, COCOS NUCIFERA (COCONUT) OIL, HYDROLYZED HYALURONIC ACID
Cushion Highlighter
---
Close to Skincare Formulation